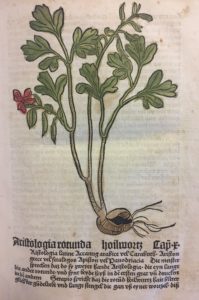 The 1485 Gart der Gesundheit was the first printing of the most significant illustrated work on natural history of the fifteenth century. For the first time its compiler, Bernhard von Breydenbach, broke with the medieval traditions of botanical art and sought to reproduce accurate depictions of plants.
In the fifteenth century this copy belonged to a Franciscan Convent in Passau in south eastern Germany, where the nuns used and annotated it heavily. The woodcuts are hand-coloured, and the text has been adapted to make the book easier to use – the German text added to the margins directs the reader to specific plants to cure specific ailments.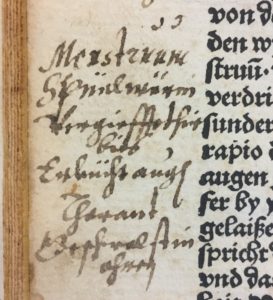 These annotations show that the book was heavily consulted, but also give some insights into the preoccupations of the women within the convent. There are various hand-written recipes within the margins to prevent pestilence and 'Scabiose' (scabies), and many of the marginal notes direct the reader to therapeutic plants for the treatment of menstrual pain.

While the the business of treating various aliments and conditions was a serious one, little illustrations and hand drawings added throughout the book suggest that the nuns were occasionally given to whimsy.  Some clearly relate to the text, but purpose of others are less obvious – like the little bird added to the woodcut illustration of this snail (pictured).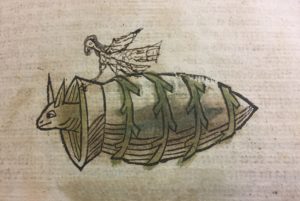 The Gart der Gesundheit is part of the Robert. E. Hart collection and can currently be seen on display in the Hart Gallery.