Turton Tower is a distinctive English country house located in the small village of Turton on the edge of the popular walking area of the West Pennine Moors. Originally built by the Tudor Orrell family to defend their land, it later became a luxurious home. The house was lavishly furnished and extended in both the Tudor and early Stuart periods.
We are pleased to offer a range of Learning Sessions at Turton Tower.  We also offer outreach and loan boxes and we have developed a series of short films linked to our  Learning Sessions. You can view these on our Turton Tower Youtube Channel
Learning Sessions at Turton Tower
For detailed lesson plans and risk assessment visit Turton Tower's page on Simply Schools website
Homes from the Past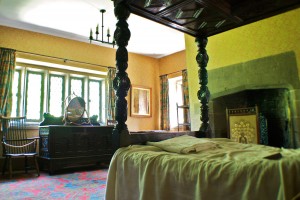 This session was developed in conjunction with Jane Mulqueeny, teacher from Bedford Hall Methodist Primary School, Leigh, Wigan as part of the Pennine Lancashire Museums and Schools Programme.
Ancient loos, a towering four poster bed and an imposing from door help KS1 children appreciate how homes have changed over the years.
Turton Tower originally a medieval fortified house, was expanded and made into a more comfortable home by the Tudors and Victorians.
Your visit:
In this session the children first look around the outside of the house, then enter through the studded Tudor door into the hallway, complete with a suit of armour. They then spend the morning exploring the bedrooms, toilets and living rooms, comparing and contrasting them with their own homes.
After lunch, they look through the remaining rooms in the house, studying their contents, drawing and sketching.
"The day was invaluable because children are given the opportunity to explore the building and its contents and make accurate comparisons with houses today." Jane Mulqueeny, teacher, Bedford Hall Methodist Primary.
Meet the Tudors – Exploring life in a Tudor home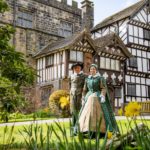 Come and meet our costumed interpreters as we go back to Tudor times and experience how life was lived at Turton Tower.
The Tower House was a family home to the Orrells during this period and pupils will explore the house as it was and learn about aspects of daily life including dressing and bedtime, handle replica objects from the period and learn a Tudor dance.
The session usually runs from 10am – 2pm and there is a room where pupils can eat their lunch if the weather is inclement.
Our gift shop has a range of pocket money priced items including souvenirs of Turton Tower to take home.
Visit the Victorians
Pupils will m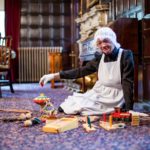 eet Victorian characters who worked at Turton Tower during the reign of Queen Victoria when the Kay family owned Turton Tower. Pupils will explore aspects of daily family life including home schooling, discovering the useful and sometimes strange household objects and enjoy a past times playtime with Victorian toys, some of which have adapted and are still played with today.'
Booking and charges: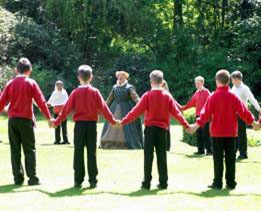 £5.70 per pupil (minimum £160 per class). No deposit required. All sessions are full day (ie, 10am – 2pm approx.)
For more information or to make a booking, please call Ally Hodgson on 01204 852203 or email ally.hodgson@blackburn.gov.uk 
Please note that because Turton Tower is a Grade I listed building some parts of the building may not be accessible to people with restricted mobility.  If you have any concerns please discuss them with staff before you make your booking.
Outdoor Education
Delivered by our Ofsted registered specialist partner CommuniTree. Offering Forest School sessions, Curriculum days and teacher training at Level 1 and Level 3 OCN awards.
Contact Ally at Turton Tower for more information on 01204 852203 or email ally.hodgson@blackburn.gov.uk
Outdoor Sessions Available
Bring the Tudors and Victorians to life in your classroom
We have exciting discovery boxes available to borrow, each box contains over a dozen original and replica artefacts with teacher's notes and descriptions.
Mistress Orrell (Tudor) or Governess (Victorian) can visit your class in full costume with artefacts to bring history alive. Half day (£95) or full day (£150) available.
Loan Boxes are also available for our Tudor and Victorian sessions.