A painting as a War Memorial? Diana or Christ in Blackburn Museum and Art Gallery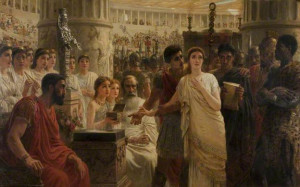 A FREE Public Talk on Diana or Christ? by Dr Kate Nichols, Birmingham Fellow in British Art at the University of Birmingham.
In 1919, Blackburn Museum and Art Gallery was gifted Edwin Long's 1881 painting 'Diana or Christ?' as a memorial to the First World War. Based on new archival discoveries, this talk explores the controversies surrounding the painting when it was put on show in Blackburn in 1919. Can a painting be a war memorial? And does its status as memorial affect our understandings of the painting hanging in Blackburn today?
Places are limited and booking is essential. Please call 01254 667130 to book your place.