Blackburn Artists' Society Autumn Open Exhibition
How to Enter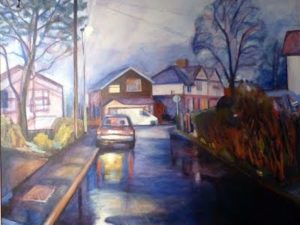 Commended work by Suzanne Worrall, Twilight Church Walk, Blackburn, 2016
The annual Blackburn Artists' Society Autumn Open Exhibition will open in November 2017. If you would like to exhibit your work, please complete the Open Exhibition entry form and bring in your artwork and completed paperwork within the times listed below.
OPEN Exhibition entry form 2017     OPEN Conditions of Entry 2017doc
Artists are required to be bring in their paintings to the museum between Wednesday 15th November to Saturday 18th November.
The opening of the exhibition is Saturday 25th November at 2 pm.
The exhibition will run between Saturday 25th November at 2 pm until Saturday 27th January 2018.
Your paintings should be collected between Saturday 3rd and 7th to 9th February.
 The opening times at the museum are Wednesday – Saturday 12 – 4:45 p.m