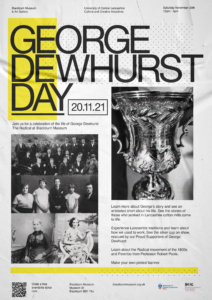 ---
George Dewhurst Day
---
Join us for a celebration of the life of George Dewhurst The Radical.
George Dewhurst, 'The Radical of Radicals', was born in Blackburn in 1789. He is celebrated for his tireless work in the fight for workers rights in Blackburn and Lancashire.
He spoke at many public events, and was eventually arrested for High Treason for speaking at a large gathering of workers in Burnley in 1819. He was tried at Lancaster Assizes and sentenced to 2 years in Lancaster Prison. He travelled to America in 1827, returning to Blackburn a few years later, where he was elected as council member for St Paul's Ward in 1851.
In 1832 he was presented  a silver cup in recognition of his campaigning by the Radical Reformers of Blackburn as an acknowledgment of his work and as a token of appreciation from those he fought for. It was an unusual thing to do and a very precious item for a working class man to own.
Join us on November 20 for a celebration of his life:
Learn about George's story and see an animated short about his life.
See the stories of those who worked in Lancashire cotton mills come to life.
Experience Lancashire traditions and learn about how we used to work.
See the silver cup on show rescued by the Proud Supporters of George Dewhurst.
Learn about the Radical movement of the 1800s and Peterloo from Professor Robert Poole.
Make your own protest banner.
Book your free Eventbrite ticket here