Heritage Open Days
Free Printmaking Workshops with the Columbian Press with artist Julia Swarbrick.
Discover how to make your own relief prints with the Museums 19th Century Columbian Press and create your own mini book in the spirit of the Hart Collection
Workshops:
10am – 12pm – Booking essential
1 – 3pm – Booking recommended
Places are limited, to book your place please contact the Museum on 01254-667130 or email museum@blackburn.gov.uk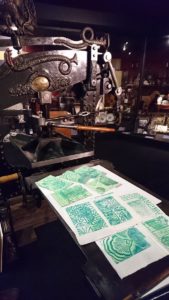 Our cast iron Columbian Printing Press was built in 1875 by the grandson of the famous type designer and foundry owner Vincent Figgins of London. It is a rare example. It was brought to Blackburn Museum in the 1970s, a gift from a local printer. It was recently rediscoved in the museum stores and two experts from St. Bride's Foundation in London to put it together again. The press can now be seen in all its glory in our 'Skill and Labour' Gallery.