Kitchen Lithography & Gum Arabic Transfer
PLEASE NOTE: In line with guidance issued by the Government over social distancing, this event has been cancelled until further notice.
Kitchen Lithograpy is a way to create your own lithographs straight from your drawings without the need for noxious chemicals and learn how to try the techniques at home. Gum Arabic Transfer is a great way to make interesting prints from old photocopies.
How to make a Litho plate
How to apply your drawing/image different approaches
How to prepare your plate
How to ink your plate
How to print your plate both by hand and using an etching press
How to make a gum arabic transfer and print it on an etching pres
Take home a set of prints and some great ideas for experimenting creatively in your own kitchen
Images below made by students at workshop using Kitchen Lithography and Gum Arabic Transfer.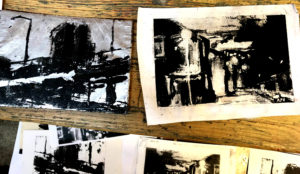 Price £40 – Booking is essential via the Eventbrite Website