Printmaking with Bookbinding – Inspired by the Edward Hart Collection
PLEASE NOTE: In line with guidance issued by the Government over social distancing, this event has been cancelled until further notice.
The Edward Hart Collection is a remarkable collection of books and manuscripts which shows the history of the book in microcosm.
In this 1 day workshop you will make your own hand bound books and learn how to apply printing techniques used through history.
Create a hard back book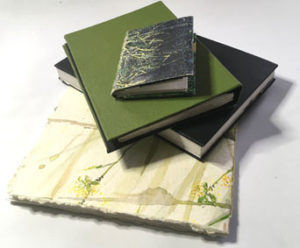 Create a soft bound pamphlet book
Explore printing techniques with lino and block printing, stamps and monoprint

Ideal for a unique artist sketchbook, personalised photo album or special scribbling. Booking essential via the Eventbrite website. Makes an unusual gift.Special price of £40 including all materials plus tea, coffee, cake and biscuits