NIGHT AT THE MUSEUM – A FAIRGROUND PRODUCTION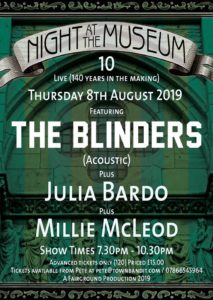 On Thursday 8th August 2019 Blackburn Museum are hosting a live music event with an intimate acoustic show featuring The Blinders supported by Julia Bardo and Millie McLeod.
The show begins at 7:30p.m. till 10:30p.m
Tickets are available from Pete at pete@townbandit.com or call 07866545964 and are priced at £15.
Tickets are limited to 120 tickets and will be sold on a first come / first serve basis. Please note tickets can only be purchased in advance.