Soul is Form: Books Printed in England from the Hart Collection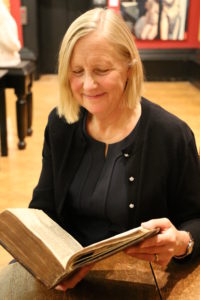 The first in a new series of Guest Curator exhibitions, Soul is Form is a display of six books carefully selected from the Hart Collection by Dr Cynthia Johnston. Since 2013 Blackburn Museum and Art Gallery has worked with the Institute of English Studies, School of Advanced Studies at the University of London to promote the importance of collections held by the museum. Under the guidance of Dr Cynthia Johnston, a programme of visiting academics has been established. As a direct result of these visits we have begun to uncover a wealth of new information about the collections and consequently the profile of the museum has been significantly raised within the academic community.
Soul is Form gives visitors to the museum a chance to understand more about this academic collaboration. Through the exhibition, Dr Cynthia Johnston interprets what her own personal favourites are and why they are so important. All of the books chosen were printed in London and span a period of over 300 years, from The Canterbury Tales by Geoffrey Chaucer, printed by Richard Pynson in 1526 to Charles Ricketts' Cupide and Pysches, from 1897 which demonstrates the art of printing revived by the William Morris' Arts and Crafts Movement.
In 1946 Robert Edward Hart, left his large collection of manuscripts, books and coins to Blackburn Museum for the enjoyment of everyone in the town. Known as the Hart Collection, it includes Psalters and Books of Hours and also some of the earliest printed books by William Caxton and a page from the Gutenberg bible.