The third David Shipway Lecture – Saturday 9th June 2018, 2:00pm – FREE All welcome
'The Little Cows of Bearn': The story of a medieval coinage from the French Pyrenees told by Adrian Lewis.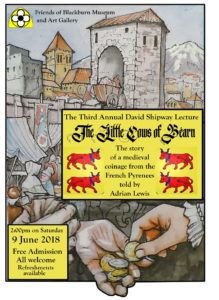 David Shipway, who died in 2016, and his wife Pat were among the first people to join the Friends of Blackburn Museum and Art Gallery when it was formed in 1983. In 1997 David took over the role of Honorary Secretary and proved to be a model of efficiency until his much-lamented retirement in 2011.
David not only organised the Friends committee and records, he delighted in arranging the supply of wine for their Christmas parties and, of course, excelled at this as well. David and Pat were staunch supporters of all the fund-raising and social events held by the Friends, and went on all the trips to France, where his knowledge of the culture and particularly his language skills were much appreciated.
We wanted to commemorate both our friendship with him and his long service to the group so decided to hold an annual lecture in his name. For more details on Friends of The Blackburn Museum & Art Gallery please visit; http://friendsofblackburnmuseum.org.uk/