Blackburn Artists' Society Open Exhibition
How to Enter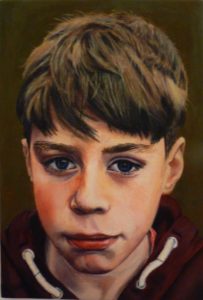 Winner of the Claude Brun Prize, Tamzin Shorrock 'Son'
The annual Blackburn Artists' Society Open Exhibition will open on 4th May 2019. If you would like to exhibit your work, please complete the Open Exhibition entry form and bring in your artwork and completed paperwork within the times listed below.
OPEN Exhibition entry form 2019
OPEN Conditions of Entry 2019doc
Artists are required to be bring in their paintings to the museum on Friday 26th April or Saturday 27th April, between 12:00 – 4:00p.m.
The opening of the exhibition is Saturday 4th of May at 2 pm.
The exhibition will run between Saturday 4th May at 2 pm until Saturday 8th June 2019.
Your paintings should be collected on Wednesday 12th June 2019 between 12:00 – 4.00p.m.
The opening times at the museum are Wednesday – Saturday 12 – 4:45 p.m