Introduction to Yoga
PLEASE NOTE: In line with guidance issued by the Government over social distancing, this event has been cancelled until further notice.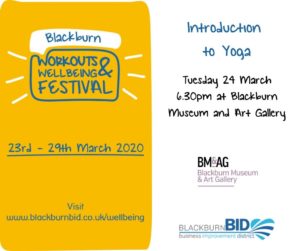 Come and enjoy a free taster session: Introduction to Yoga which is part of Workouts and Wellbeing Festival on Tuesday 24th March at 6:30p.m.
Fitness and wellbeing activities are being delivered across the week, throughout the town centre. The festival offers an opportunity for you to experience the fantastic range of activities already available in the town centre, and a chance to try something new, all without any charge or commitment. No need to book in advance – just turn up and enjoy!
For more information and other events; visit: https://www.blackburnbid.co.uk/wellbeing/