The Columbian Printing Press, 1875
Interest in the book and manuscript collections at Blackburn Museum by the Institute of English Studies of the University of London and the British Library led to the rediscovery of the press in the museum stores. The excitement generated, encouraged two experts from St. Bride's Foundation in London to put it together again. The press can now be seen in all its glory in our 'Skill and Labour' Gallery.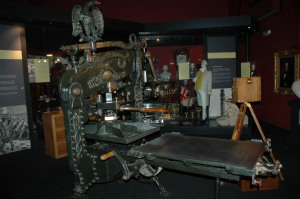 It is a cast iron Columbian Printing Press built in 1875 by the grandson of the famous type designer and foundry owner Vincent Figgins of London. It is a rare example. It was brought to Blackburn Museum in the 1970s, a gift from a local printer.
The Columbian Printing Press was originally designed in 1813. When it was new, it was the first true mechanical flat-bed steam-driven cylinder printing machine, which could print 800 sheets an hour. Importantly, it was operated by a lever action and counterweight. Before this date the 'common press' was made of wood and operated by a screw action.
It has a full cast iron frame and is decorated with a large dominant eagle. It is extremely heavy. The Columbian printing press was probably cast in the North of England, rather than make the long journey from London.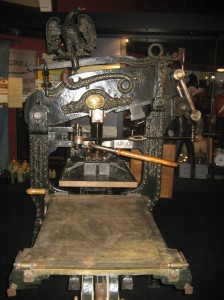 Look out on our website, or ask a member of staff  for details of workshops we are planning for 2016 which will see this printing press being used once more.