HOLDING the VISION:
Collecting the Art of the Book In the Industrial North West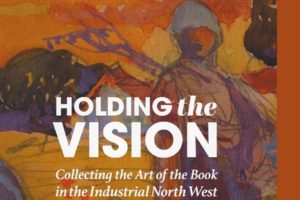 On the 1st of February, we open up HOLDING the VISION:
Collecting the Art of the Book In the Industrial North West exhibition. This is the first major exhibition to explore the hidden collections of rare books in the North West. Featuring collections held by the Harris Museum, Preston, the Blackburn with Darwen Library and Information Service, Blackburn, Towneley Hall Museum and Art Gallery, Burnley and the Grundy Art Gallery, Blackpool, the exhibition tells the stories of the books themselves and the people who collected them.
Each of the collections in this exhibition feature illustrated books, a key attribute for those who sought them out. For while we now admire these books and their art through the glass of a case, most once sat on modest book shelves in ordinary homes. They were read and held in the hands of their owners, poured over by firelight, or as one later recollected, until the candle for the evening had burnt to its end.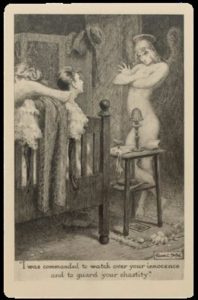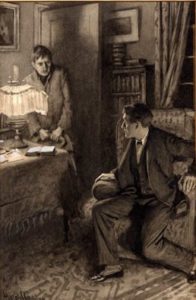 Above: (left) Anatole France, The Revolt of the Rebel Angels, translated by Mrs. Wilfrid Jackson, illustrated by Frank C. Pape, (London: John Lane at the Bodley Head, 1914), ink on paper, 245 x 160 x 38mm, the Harris Private Press Collection, the Harris Museum and Library, , (right) Harold Copping (1863- 1932), The Brothers, watercolour, ink, gouache on card, 20.3 x 30.3cm, the Edwin James Hardcastle Collection of Original Art for Book Illustrations, Towneley Hall Museum and Art Gallery
This exhibition brings these collections together for the first time, and opens up the art they hold, to the public that they were intended to delight when they were bequeathed to the people of the region over 70 years ago.
The exhibition has been curated by Dr Cynthia Johnston at the Institute of English Studies, School of Advanced Study, University of London. The exhibition and catalogue have been made possible by the Paul Mellon Centre for the Study of British Art, the Society of Antiquaries and Arts Council England.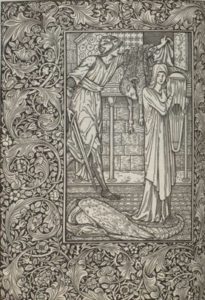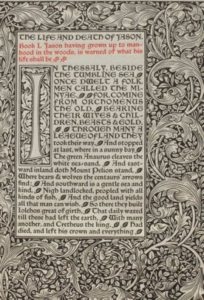 Above Left and Right: William Morris, The Life and Death of Jason: a poem, (Hammersmith: Kelmscott Press, 1895), ink on paper, 300 x 220 x 43mm, the Harris Private Press Collection (Haslam bequest), the Harris Museum and Library
To read a review by Johnathan Grieve from the Lancashire Telegraph, follow this link: Holding the Vision