Julia Swarbrick – Icons and Illumination Workshop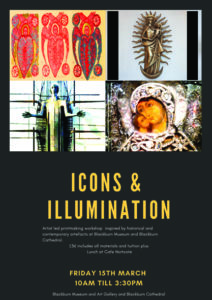 Take inspiration from the stunning collections of art and artefacts at Blackburn Museum and Blackburn Cathedral. From early icon painting and illuminated manuscripts to more contemporary interpretations of traditional themes. Artist and Printmaker Julia Swarbrick will show you how to create your own hand decorated wooden panels using printmaking, painting and gilding techniques. The day begins at Blackburn Museum and Art Gallery.
Price £36 includes lunch deal at Cafe Northcote plus materials, refreshments and full tuition.
Please book via  blackburncathedral.com
Telephone: 01254 277430 or email info@blackburncathedral.com
Numbers are limited so please book to secure a place.