Julia Swarbrick Art/Prints Workshop
Relief Carving and Printing on Fabric at Blackburn Museum
Saturday 6th July – 10am till 4pm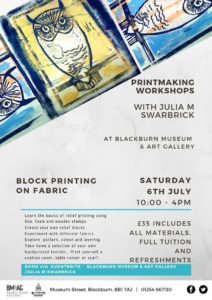 Julia Swarbrick is a visual artist specialising in painting and printmaking. Alongside developing her own art practice she has extensive experience delivering workshops, demonstrations and visual arts events.
"It's a real pleasure to share my skills and knowledge and I always learn so much from working with other people. My workshops cater for everyone from total beginners to experienced arts practitioners. I have exhibited widely and my work can be found in international collections from the Australia to the US. I love working with Museum and Heritage sites; they are great places to stimulate the intellect and the imagination. Creativity is my passion I hope it can be yours too." 
In this workshop:
Learn the basics of relief printing using lino, foam and wooden stamps.
Create your own relief blocks
Experiment with different fabrics
Explore pattern, colour and layering
Take home a selection of your own hand printed textiles . Options include creating a cushion cover, table runner or scarf. All inks used are water washable but will fix permanently when dry.
Workshop includes all materials plus Tea, Coffee and Biscuits
This event is charged at £35 and can be booked via the Eventbrite website.