Linocutting with the Columbian Press Workshop
Explore Linocutting in an inspirational Museum environment with the artist and printmaker Julia Swarbrick using the Columbian Press.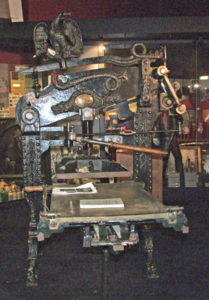 Learn how to create your own linocuts with ease. Plenty of useful hints and tips to get you going and discover the possibilities of this versatile medium.
Transfer your designs to blocks
Learn how to cut linocut with different gouges and cutting tools
Learn how to register your prints
Print your own designs by hand and with the press
Using an assortment of pre cut blocks discover how the museums 150 year Columbian Press works and make your own multi plate poster
Workshop includes all materials plus Tea, Coffee and Biscuits
Book via Eventbrite – Cost £25