Blackburn Museum and Art Gallery – Artists led workshops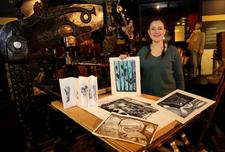 I am Julia Swarbrick a visual artist specialising in painting and printmaking.  Alongside developing my own art practice I have extensive experience delivering workshops, demonstrations and visual arts events. It's a real pleasure to share my skills and knowledge and I always learn so much from working with other people. My workshops cater for everyone from total beginners to experienced arts practitioners. In 2016 I was artist in Residence at Blackburn Museum and Art Gallery and held an exhibition there earlier in 2017. I have exhibited widely and my work can be found in international collections from the Australia to the US. I love working with Museum and Heritage sites; they are great places to stimulate the intellect and the imagination. Creativity is my passion I hope it can be yours too.
All workshops include materials and refreshments.
PLEASE NOTE – Saturday 4th November 2017 – Illuminated Prints with Julia Swarbrick (10am – 1pm) – £16 –  RESCHEDULED FOR SATURDAY 3RD FEBRUARY 2018 
Saturday 11th November 2017 – Make a Memory Mirror with Kate Eggleston-Wirtz (10am-4pm) – £35 RESCHEDULED FOR SATURDAY 27th JANUARY 2018 
Friday 17th November Relief Printing –
Lino and Block Stamp making Workshop
In this one day workshop you will learn how to design, carve and print your own linocuts. Identify how to use different tools to achieve a variety of results. Print with a barren, spoon and with a choice of printing press. Experiment with an interesting assortment of papers and card as well as fabric. Take home editions of your original artwork.
£30 10am till 4pm     Maximum of 8
Saturday 18th November – Bookmaking with Print
This one day session will introduce you to some simple but effective techniques for creating your own bound book decorated/illustrated with prints of your own choice and design.  Julia will guide you through a range of processes. Create a memoir, a story book or a gift for someone special.
The session includes
How to make your book
Binding the book
Covering the book
Adding Stamps /linocuts/collage/Monoprint/ text
£30 10am till 4pm Maximum of 8
Friday 24th November – Monoprinting
In this Monoprinting workshop you will create many prints but every one will be different. You will explore a range of techniques incorporating among other things the wonderfully versatile Jelly block. Incorporating painting, simple drawing the use of found objects and stencils, this is a real chance to experiment. Take home a great set of prints and be inspired with some handy hints on how to try some more at home.
Ideal for beginners as well as those with more experience
£30 10am till 4pm Maximum of 8

Saturday 27th January 2018 – Make a Memory Mirror
Explore the museum collection through collage and assemblage art and take away a mirror at the end of the session. During this workshop you will create a reflection of your life within the museum incorporating photographs and objects that remind you of who and what you love: family, travel and hobbies. This could be for you or a treasured gift for a special someone.
£35 10am till 4pm     Maximum of 8
Saturday 3rd February – Illuminated Printmaking
Take inspiration from Blackburn Museum's fabulous Hart collection containing some excellent examples of illuminated manuscripts and illustrated early books. Use a variety of printmaking techniques to create your own manuscript, decorate it with vibrant colour and illuminate with gold foil.
£16 10am till 1pm        Maximum of 8
To book please visit  https://www.eventbrite.co.uk/o/workshops-at-the-museum-12912265556
or contact Julia on 07930374512 or email jswarbie@swarbiearts.co.uk