THE DAVID SHIPWAY LECTURE
A talk by Dr Cynthia Johnston
The Decorated Book: The Development of Medieval Book Art using examples from the Hart Collection.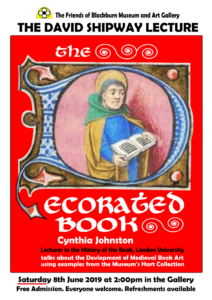 This year's David Shipway Memorial Lecture will be given by Dr Cynthia Johnston, Lecturer in the History of the Book at the Institute of English Studies, School of Advanced Study, University of London. Her most recent publication is Collecting the Past: British Collectors and their Collections (Routledge, 2018)
She is currently preparing an exhibition on industrialist bibliomania funded by the Paul Mellon Foundation for British Art to open at the Blackburn Museum and Art Gallery in January 2020.
For a number of years, she has worked extremely effectively to make the Blackburn Museum & Art Gallery collections better known nationally and internationally.
The talk will last approximately one hour and refreshments will be served after the talk. For further information on The Friends of Blackburn Museum and Art Gallery click here.