FROM THURSDAY 5 NOVEMBER – WEDNESDAY 2 DECEMBER, THE MUSEUM WILL CLOSE IN LINE WITH NATIONWIDE CORONAVIRUS RESTRICTIONS
William Morris Wallpaper Exhibition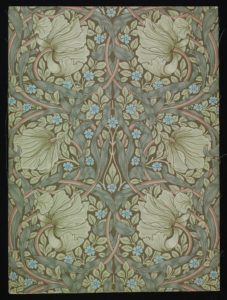 On display from 7 September 2019, Blackburn Museum and Art Gallery hosts a new display of wallpaper with samples on loan from the V&A. The exhibition is part of the DesignLab Nation programme. This project aims to bring together secondary schools, local museums and local designers to inspire and preserve the essential role of design education. Arts and Crafts period wallpaper by William Morris will take centre stage with additional wallpaper recently acquired by Blackburn Museum and Art Gallery from artist and sculptor Halima Cassell, who created wallpaper designs with local manufacturer, Graham & Brown.
This DesignLab Nation project is the third in the series, working with local schools, colleges and designers, funded through and under the guidance of the V&A in London.
DesignLab Nation is generously supported by Art Fund, The Foyle Foundation, with additional support from the Brian Mercer Charitable Trust, The Zochonis Charitable Trust and Sarah Nichols.
The V&A was awarded Art Fund Museum of the Year 2016. The prize money has been used to support DesignLab Nation.