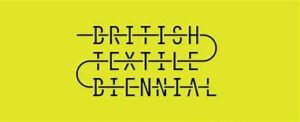 ---
British Textile Biennial 2021
---
British Textile Biennial returns this year with new artist commissions, exhibitions and performances presented against the backdrop of the impressive infrastructure of the cotton industry in Pennine Lancashire. This October, BTB21 turns its attention to the global nature of textiles and the relationships they create, both historically and now, with a major new commission by Turner Prize winner Lubaina Himid, fashion historian Amber Butchart as guest curator, a groundbreaking, sustainable fashion project with designer Patrick Grant and a collaboration with artist James Fox and actor Maxine Peake.
The British Textile Biennial 2019 threw a spotlight on the nation's creativity, innovation and expression in textiles against the backdrop of the impressive infrastructure of the cotton industry in Pennine Lancashire.
Attended by over 54,000 people throughout October 2019 we brought artists, communities and audiences together to explore fabric as a means of expression; exploring textiles as a vehicle for protest and cultural identity in installations, performances and art works that took a dynamic look at our relationship with that most basic and ancient of human creations, cloth.
Held in various venues across Pennine Lancashire, Blackburn Museum and Art Gallery will be exhibiting 3 exciting exhibitions:
Homegrown/Homespun is a ground-breaking regenerative fashion project in collaboration with designer Patrick Grant, his social enterprise Community Clothing and North West England Fibreshed.
Azraa Motala creates work that seeks to untangle culturally inherited expectations and the overlapping aspects of her own identity as a young British-Asian Muslim woman, exploring the way in which women from the diaspora have been represented in both the past and the present day, particularly through their dress.
In the year marking the 90th anniversary of Gandhi's historic visit to Darwen, Khadi is an ambitious new installation by Bharti Parmar comprising archival images of the Mahatma's visit, artefacts from Blackburn Museum and Art Gallery and delicate drawings and sculptures made from Khadi paper.
The full 2021 programme can be found on the British Textile Biennial website