The John Henry Spencer Collection, The Harris Museum, Library and Art Gallery, Preston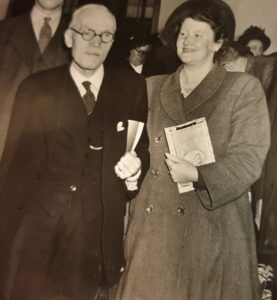 John Henry Spencer's collections reflect a lifetime of reading and passionate engagement with literature and history. His collecting focus was on three main areas: children's books, chapbooks (small format, cheaply produced books of popular stories and rhymes which appeared in the sixteenth century) and material related to the Preston-born Catholic-mystic poet, Francis Thompson (1859-1907). 
There are two dominant themes to the children's book collection; Victorian or Edwardian books on adventure and travel and books which carry the work of illustrators of the fin de siècle (the end of the 19th century). Spencer was interested in a wide variety of genre. In addition to adventure stories for both boys and girls, there is much poetry, collections of fables and myths, books of instruction, nursery rhymes and stories and many books of information relating to geography and the natural world. The collection is also rich in examples of children's magazines, particularly 'annuals'; compendiums of the year's publications for magazines.
Children's Book Collection
John Henry Spencer fell in love with books during his childhood. In an article written for the Preston Herald in 1949, Spencer described his first book, a gift bound in 'dark purple cloth with an oval-arched coloured illustration in the centre of the top cover…with a moral purpose running through the story which deeply impressed my boyish mind'. Spencer collected children's books throughout his life. The books represent a wide variety of interests. Poetry, adventure, the natural world, and school stories as well as emerging illustrators of the early twentieth century like Arthur Rackham and Frank Cayley Robinson, reflect Spencer's passionate engagement with the world of children's books.
Chapbook Collection
Chapbooks were small-format, cheaply produced books of popular stories and rhymes that were often sold from open stalls or small carts from 'chapmen'. Chapbooks appeared in the sixteenth century and rose in popularity through the seventeenth and eighteenth centuries until they were replaced by cheap newspapers in the nineteenth. The books were produced as ephemera using inexpensive materials. Survivals are rare. Spencer's collection of over 300 books include typical examples of the genre including moral tales for children, folktales and prophecies, as well as scintillating titles for older readers such as the Spectres of Lord Oswald and Lady Rosa and the Remarkable Account of a Horrid Murder Discovered.
Next time: Dr Cynthia Johnston takes a closer look at the John Henry Spencer Children's Book Collection.